Journey to the last Shangrila - How to plan your Bhutan trip?
Saturday, September 27, 2014
By Iva Wen
Bhutan is also known as "Land of Thunder Dragons"

To preserve natural wealth and Bhutan culture from potential tourism development, Bhutan government levies surcharge to its visitors and they believe this system will limit the number of tourists into Bhutan.

Bhutan is one of the least developed country in the world. Economy of Bhutan is mainly depending on India through trading and financial assistance. The export of hydropower to India has boosted Bhutan economy and overall growth.

Many may think that it is very expensive to visit this Himalayan kingdom, in fact it is not as expensive as you think. The minimum daily tariff is USD200 during low season (Jan, Feb, June, July, Aug and Dec) and USD250 for high season (March, Apr, May, Sept, Oct and Nov). Tourist is not required to pay more than the minimum tariff, this minimum tariff includes 3 star accommodation, tour guide, transportation with driver, meals, bottled water, all entrance tickets, government royalty (USD65 per day per pax) and tourism development fees. Other than this, one need not pay any additional except air ticket, travel insurance, personal expenses and tips. Visitors who choose to upgrade their accommodation to better hotel will have to pay additional on top of the daily minimum tariff.

My trip to Bhutan will be 6 nights end of March, the total cost is USD250 x 6 nights + USD 30 x 6 nights (surcharge per person per night for smaller group less than 3, single will be USD40) + air ticket SGD1470 = SGD3700, for a 7D6N trip and we will visit 4 cities, Paro, Punakha, Thimphu and Gangtey. Not that bad right?



How to plan your Bhutan trip?
Pick your travel date
I have been planning to visit Bhutan for their Paro Tshechu festival. It is one of the most famous festival in Bhutan. It features dances performed by trained monks and laymen in beautiful costumes. Festival is also one of the best way to experience Bhutan culture.
Download Bhutan 2015 festival date
here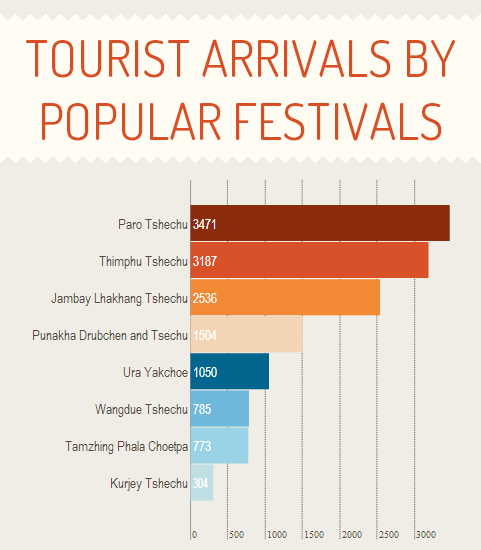 image source from www.drukasia.com
Paro festival 2015 is scheduled from 31st March 2015 to 4th April 2015. As soon as Druk Air 2015 flight schedule was released in August, I quickly confirmed my trip with
Druk Asia
.
Thimphu Tshechu is another popular festival which attracts large volume of tourists in autumn.
March and October are peak season to visit Bhutan. You should plan your trip a few months in advanced if you are thinking of visiting Bhutan these period of time.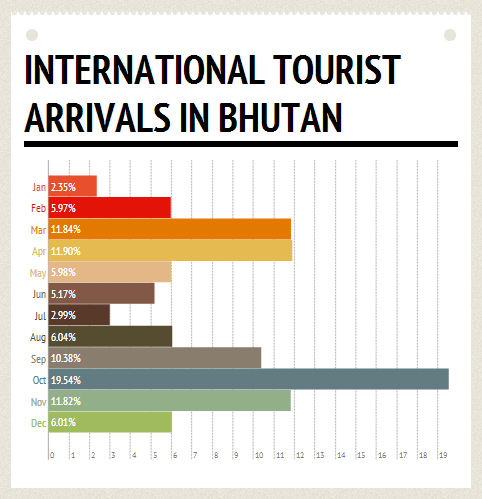 image source from www.drukasia.com
Weather in march will be between 0 degC (night time) to 14 degC (day time). Gangtey will be the coldest in terms of altitude and Punakha will be the warmest. You can wear t-shirt with scarf in the day and fleece jacket at night. Bring along down jacket just in case.
Read

here

to find out when is the best time to visit Bhutan.
Reserve your air ticket
Like I mentioned earlier, you should reserve your hotel and air ticket few months in advanced if you plan to travel in peak season.
Druk Air (Bhutan national airline) is the only airline fly direct from Singapore to Bhutan via Kolkata.
You can reserve your ticket with Druk Air directly or you can ask your travel agent to do the reservation for you.
Tashi Air (Bhutan first private airline) is another airline which connects Bhutan with
the rest of the world, to be precise, only 3 countries - India, Nepal and Thailand.
Choose your tour agent
No free and easy travelers are allowed in Bhutan (except
Indian, Bangladeshi and Maldivian)
. This means you have to book your land tour only with Bhutan licensed travel agent. Travel agent will do all the planning, includes booking of accommodation, planning of itinerary, visa and permit application and etc. A
ll tour has no minimum pax requirement and itineraries are fully customized.
Before choosing your tour agent, you can ask for a few quotes from either local Bhutanese agent or international agent. Since everyone has to pay for the same minimum daily spending requirement, difference among different agents would be the service provided and I think this is very important. You may want to do a bit more research before you sign up with any one of them. I signed up with
Druk Asia
which they have office in Singapore and that makes my trip planning much more convenient. I do not need to visit their Singapore office personally, any queries I can just give them a call or email (email reply from Druk Asia Singapore is not very prompt, do expect you will only get reply 2 days later), payment can be made via Singapore bank internet banking. Sending money to overseas travel agent may incur additional fees.
Itinerary
Here is the itinerary provided by Druk Asia.
Reserve your hotel
Before selecting your choice of hotel, take a look at tripadvisor. There are plenty of hotels in tripadvisor. Bhutan standard hotels usually do not confirm booking until one month before the trip. Most hotels prefer to choose booking which can fully occupy the hotel. For example: a hotel with 10 rooms will accept booking of 3 rooms and 7 rooms instead of 8 rooms booking in order to fill up the hotel. So do expect some changes in hotel booking. 5 star hotel do not have such problem.
I have selected hotels listed below for this coming Bhutan trip -
There is only 1 hotel in Gangtey and it is always fully booked. Therefore I decided to spend a night in one of the farm house. Home stay provides visitor a chance to experience daily life of a Bhutanese family. Be prepared, some families may not have hot shower facility (but they can boil hot water using firewood) and some may not have electricity.
I had a little problem when I tried to arrange my stay in Uma by Como. First, minimum 2 nights stay in this luxury hotel is required since they offer
Druk Asia
better room rate (SGD650 per night forest view room). But sorry, it exceeds my budget, I only want to stay one night. So what else can I do? I can either book it with Uma by COMO directly or from booking.com which I am allowed to book only one night but at a more expensive room rate per night. Both options offer the same rate (valley view room USD575 before 10% tax and 10% service charge) but I choose to book with booking.com as I want to maintain my booking.com Genius loyalty award.
30% of payment is required on the day of booking and I thought I already made the payment since I keyed in all the payment details. But no!!! It was not paid yet and Uma by COMO wrote me an email and asked me to pay for it. Uma asked me to fill up credit card authorization form and scanned copy of the front and back of my credit card. Seriously I'm not very comfortable with this arrangement. So I left with the option to wire transfer the payment, this means I will have to pay extra for the transfer. I paid SGD20 to POSB bank for the transfer and additional USD30 to Uma by COMO for their bank processing fee. And you know what, I have to clear the remaining 70% payment prior to arrival. In another word, I have to pay additional SGD20 and USD30 again,
I realized this is a wrong choice. I should have just book the room with Uma directly and make the payment online, hassle free. Yes, I know I sound stupid.
By the way, there will be no reduction from daily minimum tariff if you opt for 2 star hotel or home stay.
Payment
If you book your tour with Bhutanese agent, you will have to wire the money to them and this will incur additional bank processing fee. Note that your Bhutan visa is only released once you have made a full payment to your travel agent. All agents will require you to make full payment 1 month before your departure date.
Visa application
All tourists, excluding I
ndian, Bangladeshi and Maldivian national,
are required to get visa prior visit Bhutan. Visa is only issued to tourist whom has booked tour package with licensed tour agent (local or international agent). Visitor cannot personally apply tourist visa, visa application has to be done by authorized travel agent in Bhutan on behalf of the visitor and it will take at least 10 working days to process. Visa application will be done online by your agent, therefore you do not need to send in your passport for visa application, just a digital scan copy is sufficient. I thought I sent Druk Asia scanned copy of my passport some time ago, but I realized I did not send them anything 2 weeks prior departure date, I called Druk Asia to confirm and yeah, they told me they didn't have it. Ok, so I sent them the copy, 14 days before my trip. As I mentioned earlier, visa take at least 10 working days to process, what would happen if I did not call Druk Asia?
Make sure that you are traveling with the passport that is used to register on your visa. If you have renewed your passport, you will need to update it on visa. Bhutan immigration will impose a USD200 fine if you travel with a passport that is not listed in your visa.
Bhutan currency
Bhutan currency is Nu (Ngultrum) and it is pegged

to Indian Rupee. Every 1 USD = 60 Nu. Both USD (only noted printed after 1996) and Indian Rupee are widely accepted and can be used for transaction. I suggest to bring some USD or Euro and exchange them

into Ngultrum when you arrive Bhutan. Do remember to keep the receipt from Bhutan money changer, you will need it to change back the remaining Nu.
For a 7D6N trip, I only changed USD100 which was more than enough. Since minimum tariff already covered most of the essential in your trip, the only thing you will spend is usually alcoholic drinks, postcards and souvenirs.
What should you bring to Bhutan?
Passport

Driving license

Visa

E-ticket

iPad or tablet: you may need this IT gadget to keep yourself

entertained

at night since most of the places you visit will be far from bigger town like Paro and Thimphu. One of the hotel (Gangtey Palace) we stayed in Paro doesn't have TV and internet was down!

iPhone SIM card pin: you may want to get a local SIM card to enjoy data plan

Electrical multi plug and adapter: most hotel rooms have limited multi plug

Other medication and motion sickness medication: you will be spending a lot of time on the bumpy road

Sun block, strong UV in this high altitude country!

Ear plug: Bhutan stray dogs bark a lot at night

In room slippers: most hotels do not offer this, bring your own if you need one

Pocari sweat: if you going to hike a lot especially Tiger's Nest, this may help

Camera!!!
Updated 28th May 2015
Interested to visit Bhutan? Read my post here -
How to plan your Bhutan trip

?
Click here to read
day 1
,
day 2
,
day 3
,
day 4
,
day 5
,
day 6
report